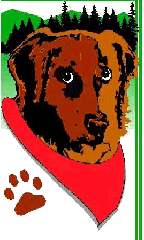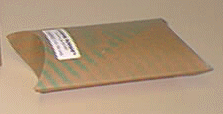 SCOOPER DOGGIE THE CHARACTER
See SCOOPER DOGGIE® in Action | Staff | Pricing & Ordering | LINKS Page | Home
SCOOPER DOGGIE® has been developed BY a Dog Owner who loves his Dog,
FOR other Dog Owners who feel the same way about their dogs.
Aren't you sick and tired of your Dog being banned from recreation areas?
This has come about because a few irresponsible people have neglected to "SCOOP" up after their dogs. I felt that more people (including myself) would be more apt to "SCOOP" if the "SCOOPING" was easy.
I like to take my Golden Retriever "Bailey" to the park to run, that always seemed to be his time to "Go". I used to take plastic bags and put my hand inside to "SCOOP". I always hated the "warm mushy" experience, and more often than not, as I hoped my hand would be separated from the "Poop" by the baggie, it wasn't - YECCHHHHH !!!!
O.K., maybe I'm a wimp. Anyone else out there that feels the same way - come on, RAISE YOUR HANDS !!!
Back in 1994, I started making different styles of "SCOOPS". "Bailey" helped me test them all - boy, is he a good tester !!! Today he is VP of Testing for SCOOPER DOGGIE®.
Anyway, the current design is the final result of much testing. It's simple, one piece, with a tear-off "helper strip". The flat design is easy to store and carry. When you're ready to use it, just squeeze the edges to open it up, fold in the flaps at each end to "break the crease". To get ready to use the SCOOPER DOGGIE®, open one end, tear off the "helper strip" fold the strip in half for strength, and "SCOOP". SCOOPER DOGGIE® is a SCOOP and a BOX ALL IN ONE. SCOOPER DOGGIE® will work on all sorts of terrains. Bailey never picked the best spot for SCOOPING - only for POOPING. Use the "Helper Strip" to catch the "ROLLERS" and the "PUSHERS". After you SCOOP, you can close the soiled flap with the "helper strip", squeeze the edges a little harder to "OPEN" the end enough to drop the "helper strip" inside. After that, you close the clean flap with your hand and dispose of the SCOOPER DOGGIE. (If you get the POOP on both flaps, you're on your own)
Take a look at the"SCOOPER DOGGIE® IN ACTION" page and review the brief instructions alongside the pictures.
SCOOPER DOGGIE® is made from re-cycled material and will not harm our environment. SCOOPER DOGGIE® is reasonably fluid tight, however nothing will SCOOP a loose "movement". SCOOPER DOGGIE® is tough - it can be bent and folded before use and when opened up it will still work.
Some of my friends who have been helping me test SCOOPER DOGGIE® have also used them to pick up spills after young children. One friend has a youngster who insists on taking his diaper off at some very in-opportune times - SCOOPER DOGGIE® to the rescue !!! SCOOPER DOGGIE® also makes a great beach tool for the kids, and when its time to go home just throw the SCOOPER DOGGIE® away.
Remember, there is only ONE SCOOPER DOGGIE®. PET INSPIRED, PET TESTED, FAMILY TESTED, and very versatile.
TRY SCOOPER DOGGIE® TODAY ! ! !

SCOOPER DOGGIE THE CHARACTER
See SCOOPER DOGGIE® in Action | Staff | Pricing & Ordering | LINKS Page | Home
SCOOPER DOGGIE
5962 Bartlett Road
Rome, NY 13440
Voice: (631) 220-1098

Email: scooper@scooperdoggie.com
Web Page Design copyright © 2015 Scooper Doggie All rights reserved